Awesome idea! These customers had one of our top-quality awnings installed and also had a heater installed underneath it for those chilly evenings when you still want to enjoy the fresh outdoors.
Get your quality awning now before the spring rush! We have a few awnings in stock that we would love to hand over to you for a good deal! Take your pick of over 300 different fabrics. Here is a 24 foot awning we installed this past week in West Vancouver.
A beautiful roll screen we installed last year. Create your own shade and still have your view from your patio! This roll screen will make you feel comfortable and secure while giving you a view out.
A special thanks to Peter and Elisa Woo from Mr. Cover All, we hope you, your family and friends enjoy your beautiful new awning.
A special thanks to Mr. & Mrs. Sousy, enjoy your glass of wine under your beautiful new custom SunCircle awning from Mr. Cover All.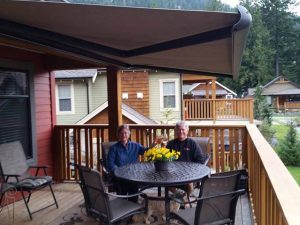 Our team put the final touches on our client's summer retreat. What a lovely place to spend a warm day outside in perfect relaxation during a holiday!
Latest Product
Available as a custom-designed system that we install for you or as a DIY installation kit, our cable shade canopy systems provide possibilities that other shade systems simply can't. Request your free quote today!
Special Offer
Don't wait until this summer to start making your outdoor home improvements. Savings like the these don't come around often. Request a free quote from Mr. Cover All during our Spring Time Blaze Sale and save!
Mr. Cover All
Family owned and operated business specializing in covers for windows and outdoor spaces. We sell and install awnings, deck covers, canopies and security shutters.
Retractable awnings are the perfect option for people who love the sun and shade. Get the most out of your outdoor space.
We will help you create your dream patio with our colourful selection of deck covers and canopies, a cozy balcony with our wind and waterproof awnings and roll screens, or a secure storefront with our security shutters. Don't get caught in the rain! Enjoy your outdoor spaces all year round with deck covers and a little help from Mr. Cover All.