Cables Shades
If you love both the sun and the shade, then a retractable canopy might be just the thing for you. A retractable canopy allows you to decide when you want to allow the sun in and when you want to have a bit of shade. As its name implies, you retract the canopy in and out to suit your preferences.
Infinity Canopy makes one of the top retracting patio shades in the industry. The Infinity shade replaces rigid shade products with one that is versatile, customizable and adaptable. Part of what's so advantageous about the Infinity canopy is that its panels can be custom configured to accommodate any length and width requirements to cover the space that you want covered.
Some of the possibilities available with the Infinity shade include the following:
Create multi-colored canopies
Change color and design periodically
Remove panels to creative custom shading
Control flatness or bellowing of each panel
Open and close from either direction
The unique design of our cable shade canopy provides possibilities that other shade systems can't. Available custom-designed and installed for you, or as a DIY cable shade installation kit.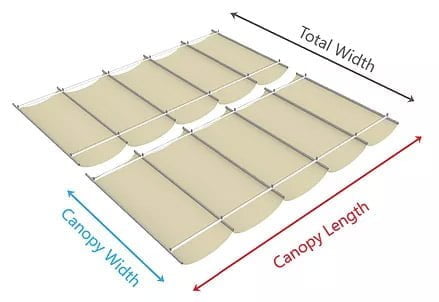 If you're in the market for a retractable patio canopy, contact us to get options and a price quote.
What People Are Saying About Us
Read our clients' testimonials about their experience with Mr. Cover All.
Dorethy and Rob Chaplin
We love the product and will do our best to promote it for you!! Very pleased with the workmanship and manners of the installers.
Mrs. J. Palmer
My metal canopy with the custom skylights is absolutely fantastic. It allows me to 'bird watch' and keep covered all year round — no matter how cold, rainy, OR sunny it may be!