Enjoy the View with Glass Railings from Mr. Cover All
Take your property's curb appeal to the next level and enjoy unobstructed views of beautiful British Columbia! Mr. Cover All offers glass railing installation services to home and business owners throughout Vancouver and the surrounding areas:
Chilliwack
Burnaby
Coquitlam
Vancouver
Surrey
We have a wide assortment of design options, helping you achieve a contemporary look with railings and other outdoor living products that are sleek, safe, and durable enough to last:
Glass Railing for Decks, Balconies, and More
Whether you want a glass railing for a second-story loft, an elegant grand staircase, or a safety enclosure around a backyard pool, Mr. Cover All has you covered. Our railings are versatile enough to fit any space, and the beauty of glass ensures that every view is protected.
Glass can also serve as a windbreaker to make outdoor spaces more enjoyable while improving visibility at every turn. Our team is ready to meet your needs and install stunning glass railings wherever you want.
Modern Glass Stair Railings You'll Want to Show Off
Don't let old, outdated railings turn your building into an eyesore. Glass railings from Mr. Cover All can dramatically improve the look of your property. They can turn otherwise dreary interior and exterior spaces into open-concept wonders! Whether you choose crystal-clear glass or a darker tint for sun protection, the material gives every area it encloses a more expansive feel.
At Mr. Cover All, we use beautiful frameless balustrades. Not only do they offer a contemporary look fit for any interior design magazine, but the distinct style creates open views of your surroundings. Let the light in, and watch this simple upgrade turn your home or business into a modern masterpiece!
Invest in Glass Deck Railings That Last
Are you worried about durability? When you turn to Mr. Cover All to install a glass railing for a deck, staircase, or balcony, you can rest easy knowing that you're getting high-quality materials that last! Our materials and designs satisfy international building codes for stability and safety.
The glass we use in our railings is tempered and guaranteed not to crack or scratch. Meanwhile, the metal support pieces are protected to prevent corrosion. Pair that with the ultra-secure installation process, and you can have peace of mind that your railings are there to stay!
Our railings can withstand tremendous pressure, assuring that bumps and falls won't sacrifice structural integrity. The entire purpose of these structural barriers is to keep everyone safe, and our glass railings are no different!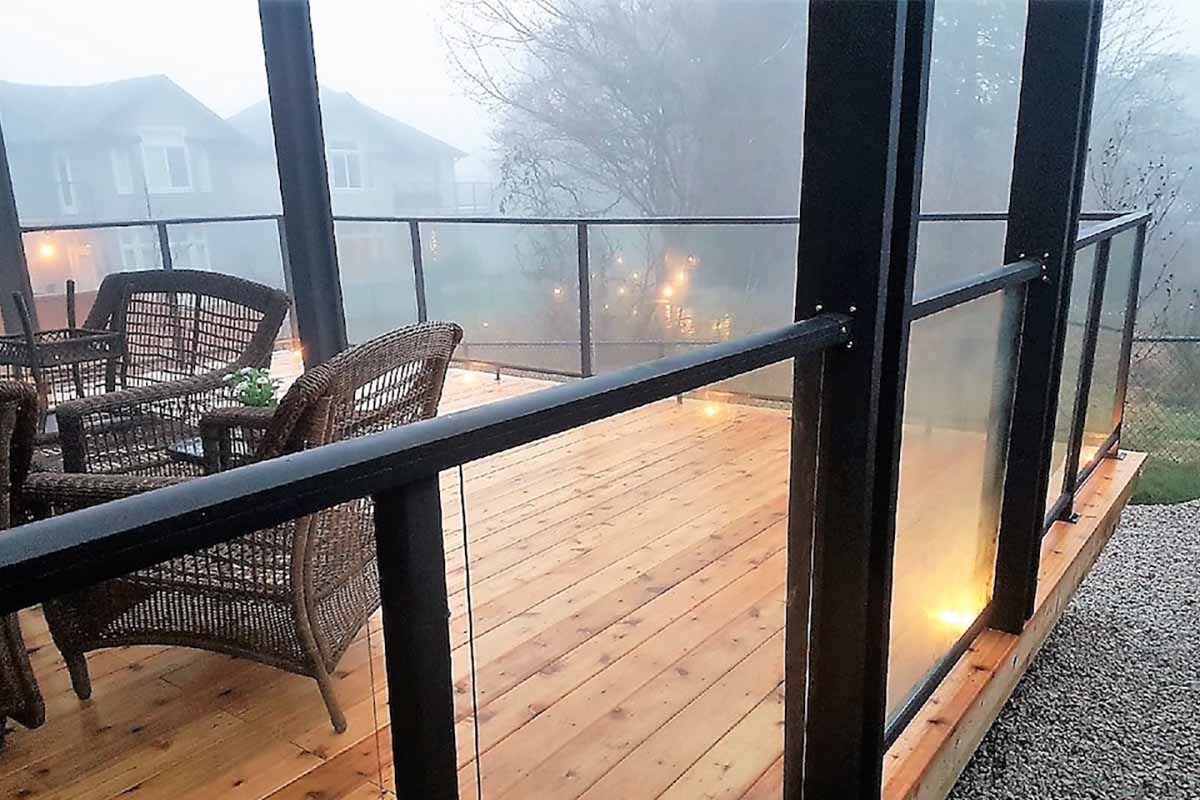 Glass Railing Installation from a Company You Can Trust
When ready to transform your property with glass railings, turn to Mr. Cover All. We're a family-owned and -operated business with years of experience and an eye for design. We use the finest materials available, ensuring top-tier products for every project.
We started Mr. Cover All because we felt everyone deserved the chance to enjoy the great outdoors of B.C. We're committed to helping you do that with reliable glass railing installation services that meet your unique needs. From design selection to installation, we're here to help you get the property-enhancing railings of your dreams!
Contact Mr. Cover All today to request a quote and schedule your glass railing consultation!